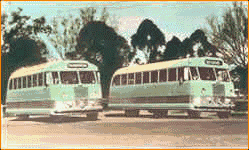 Brisbane Bus Lines has been around (literally) for over 50 years.
Our remarkable evolution is very much intertwined with South East Queensland's transport development...
In the mid-1940s an enterprising fellow by the name of Bill Mitchell saw a need for public transport buses in Toowoomba. After successfully establishing that service, Bill moved to Brisbane in the early 1950s. He then mapped out and instigated the Tamborine bus route between the Gold Coast hinterland and Brisbane. At this time he also began a charter service under the company name 'Charter Coaches', which expanded rapidly over the years.
In 1965, Bill Mitchell decided to name his company 'Brisbane Bus Lines' and shift his complete focus to school and urban passenger services. School routes in the Pine Rivers Shire were acquired and the extensive charter activities he had successfully built up were gradually sold off.
From that time until now, Brisbane Bus Lines has grown in many ways. With the charter services reinvigorated and school services ever expanding, the company has developed from a fleet of seven to over eighty. We currently have a team of over 110 employees covering 2.6 million plus kilometres per year.